0
Dragon Tiger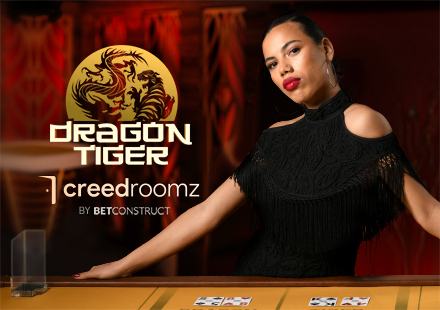 Dragon Tiger is a very simple and fast-paced game based on luck. It was first introduced in Cambodia and is especially popular among Asian gamblers. Live Dragon Tiger is a comparing card game played between two hands, the "Dragon" and the "Tiger". It represents the symbolic battle between the opposite yet complementary forces of Yin (dark) and Yang (bright). In the Chinese culture, the dragon and the tiger are considered to be evenly matched rivals that are fighting an endless battle. There is even an idiom "Dragon versus Tiger", which is used to describe equal rivals. In the Live Dragon Tiger, a single card is dealt with the Dragon hand and a single one to the Tiger hand. No additional cards are drawn.
The objective of the Dragon Tiger card game is to guess a hand that has the highest card, the Dragon's or the Tiger's, or whether it will be a Tie.
This game is played with 8 decks of 52 cards
Aces are the lowest ranked card, and kings are the highest.
A single card is dealt with the Dragon and a single one to the Tiger
Players can wager on any number of boxes in the betting area
In cases of a Tie, the half of wagers on Dragon and Tiger are returned to the player.